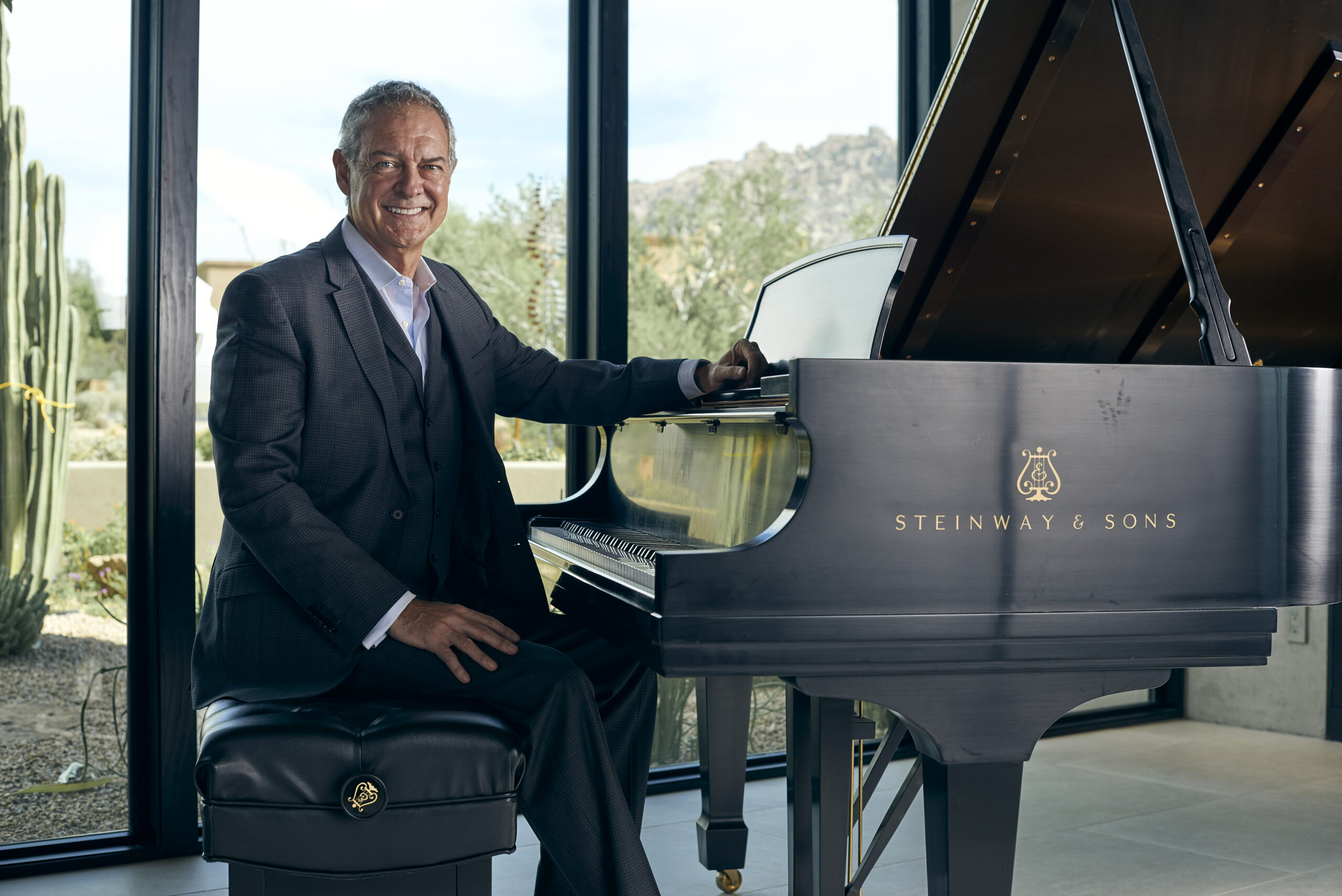 Dan Delaney – originally from Boston, now residing in Cave Creek, AZ is a highly regarded pianist, entrepreneur, author and artist for Earthworks Professional Microphone Systems and dedicated and innovative teacher of the piano specializing in Jazz Improvisation and Harmony. 
After attending Berklee College of Music in 1975, Dan studied with notable east coast jazz educators, Dick Odgren, Paul Schmeling, Harvey Diamond and Charlie Banacos. While in Boston, Dan was very active in the the jazz scene and through the years has performed with many notable jazz headliners. 
As one of the first in the world to teach piano by video correspondence in 1989, Dan was acknowledged as a pioneer in teaching by Keyboard Magazine, television and other media. His unique method of teaching piano and improvisation has been published on DVD, online as well as in print. 
In 1993 Dan moved to the White Mountains of New Hampshire where he raised his family of 4 children. Dan taught piano Worldwide by video correspondence and performed regularly. Dan's passion for teaching helped him realize there was a need for high quality music education for children living in rural mountain towns. Dan was instrumental in helping Mountaintop Music Center, a local area non profit organization. Mountaintop has gone on to be a very successful, sustainable organization of which he is proud to say he helped develop at the ground level. 
In 2003 Dan moved to Scottsdale Arizona where he had served on the faculty of two Phoenix area Colleges, where his enthusiastic and comprehensive approach was highly valued. He also appeared nightly as house pianist at the Ritz Carlton, Four Seasons and the the Phoenician Resort to name a few.  At that time he also had the great pleasure of appearing on a special recording project entitled "Phoenix" a tribute to the great Cannonball Adderley. Led by world-class alto player virtuoso Chris Stewart, the quintet featured well-known and respected Phoenix musicians and was very well received while gaining impressive reviews and #13 on Jazz Billboard. 
In 2005 Dan's book Play Piano In Six Weeks Or Less was published by Sterling Book Publisher selling over 350,000 copies to date which has gained Dan great recognition in the industry as a successful Author. A newly released version of his book came out the end of 2018. 
In 2018 Dan signed Worldwide Rights for his 2nd book with Sterling Book Publisher entitled, Play Piano In Six Weeks Or Less (Intermediate Version) Released in 2019!  Both books are offered with FREE supportive videos of Dan playing both books.
Dan will be releasing his newest book in 2022 – entitled Music Is YOUR Business Handbook. A must have comprehensive handbook to help teachers and performers succeed in music. Highlighting how to build your business with real life situations Dan has experienced in his 45 yrs of teaching and performing and how he handled each situation and how it impacted him moving forward. 
In 2014 Dan was proud to announce he became part of the Earthworks Professional Microphones "ARTISTS" group to help support such a wonderful product. A humbling experience he says, to be part of such a legendary lineup of Artists.
Dan remains committed to his very successful, unique personalized correspondence. You will also find him continually writing, lecturing as a guest artist and performing regularly in a variety of concert settings.  Since COVID 2020 he became very active with his regular "LIVE STREAM from home performances" that can be found on his YouTube Channel. His dedication and years of experience have helped him refine his own comprehensive and unique method for teaching piano Jazz Improvisation and Harmony, which he offers Worldwide with his one of a kind Personalized Video Correspondence.  His corresponding method he can assure you there is nothing like it available in today's media. It remains his primary focus moving forward now spanning over 3 decades. 
To get on Dan's mailing list be sure to sign up to receive his NEW upcoming MONTHLY NEWSLETTER which will list performances, instructional tips and much more.